Fourteenth Amendment to the United States Constitution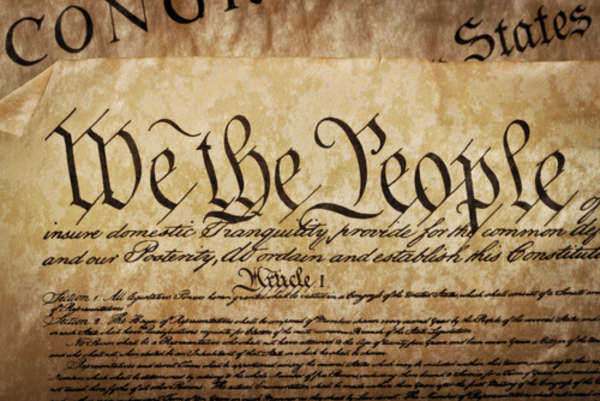 Summary of the Original Fourteenth Amendment to the United States Constitution
The Fourteenth Amendment to the United States Constitution was ratified on July 9, 1868, and mainly ensured former slaves were protected by constitutional rights within the country.
Section 1
Section 1 stated that all persons born or naturalized in the United States were citizens, thus states could not "deprive any person of life, liberty, or property, without due process of law; nor deny to any person within its jurisdiction the equal protection of the law."
Section 2
The original section of the Fourteenth Amendment guaranteed voting rights to all male citizens 23 years of age and older. This section was amended by the Twenty Sixth Amendment and gave voting rights to any person (regardless of gender) 18 years of age or older.
Section 3
This section of the Fourteenth Amendment states that no person can hold a position of office, civil or military, under the United States or under any State if they were engaged in insurrection or rebellion against the United States. This section mainly applied to persons in office that supported confederate states. The disability could be removed if Congress reached a two-thirds vote.
Section 4
This section of the Fourteenth Amendment stated that no debts for the suppression of insurrection or rebellion could be questioned. The section also states that the United States was not responsible for debts from the loss or emancipation of any slave. These debts were illegal and void.
Section 5
This section simply states that Congress has the ability to enforce the provisions of this Article with appropriate legislation.
The Need for the Fourteenth Amendment
The Fourteenth Amendment was needed because provisions of the Bill of Rights were not enforceable against state governments that denied these basic civil liberties. For example, in 1835 during Barron v. Baltimore, the U.S. Supreme Court ruled that the Bill of Rights was only enforceable against actions of the federal government.
The Fourteenth Amendment to the United States Constitution thus ensured due process and gave federal courts jurisdiction to the case if a state denied basic civil liberties.
The Fourteenth Amendment to the United States Constitution also allowed a person to sue the federal court if a state law regulation denied "equal protection of the laws." For example, during the famous case Brown v. Board of Education (1954), the federal courts ended segregation in public schools because equal protection was denied by the Kansas school's adoption of unconstitutional operating standards.
Minimum Standards under the Fourteenth Amendment of the United States Constitution
The Fourteenth Amendment allows federal court to hear cases that violate minimum standards under the Amendment. Brown v. Board of Education deprived students of equal protection because the schools were segregated. However, a similar case shows the federal court's inability to rule on more complex issues. In the case San Antonia Independent School District v Rodriguez (1973), the U.S. Supreme Court ruled that the unequal quality between rich and poor communities and their school districts is not unconstitutional. The Court ruled that "The Equal Protection Clause does not require absolute equality or precisely equal advantages."
Sources:
1. https://www.uscourts.gov/EducationalResources/ConstitutionResources/LegalLandmarks/JudicialInterpretationFourteenthAmmendment.aspx
2. https://www.archives.gov/exhibits/charters/constitution_amendments_11-27.html
Comments
comments