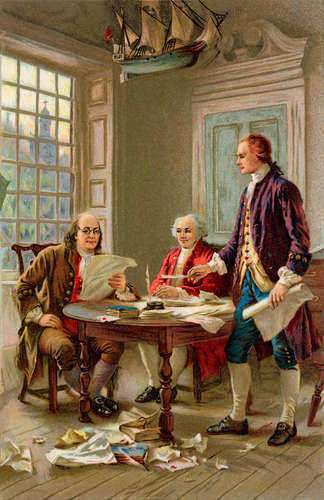 Elbridge Gerry was a Founding Father of the United States who was a signer of the Declaration of Independence, Articles of Confederation, and the United States Constitution. He was born in 1744 in Marblehead, Massachusetts and had a long and distinguished political career.
Early years and Political Involvement:
Elbridge Gerry began his political career in the Massachusetts House of Representatives in 1772, where he quickly became known as an advocate for colonial rights and liberties. In 1775, he was appointed to the Provincial Congress, where he played an important role in organizing the state's military forces.
In 1776, Gerry was elected to the Continental Congress in Philadelphia and was one of the signers of the Declaration of Independence. He continued to serve in Congress until 1780, and was a strong supporter of the Patriot cause.
Constitutional Convention:
In 1787, Gerry was chosen as a delegate to the Constitutional Convention in Philadelphia. He was initially skeptical of the proposed Constitution, and was concerned that it gave too much power to the central government at the expense of the states.
However, Gerry eventually supported the Constitution, after amendments were added that ensured the protection of individual rights. He was one of only three delegates who refused to sign the final document, however, as he felt that it did not provide enough protection for individual liberties.
Role in Politics:
After the ratification of the Constitution, Gerry served as a member of the House of Representatives from 1789 to 1793. He returned to politics in 1801, when he was appointed Vice President of the United States under President Thomas Jefferson.
Gerry served as Vice President for just over a year before his death in November 1814. In that short time, however, he played an important role in the development of American politics, and was remembered as a brilliant statesman who was deeply committed to the ideals of democracy and political fairness.
His Legacy:
Elbridge Gerry is remembered as one of the most important and influential Founding Fathers of the United States. He played a key role in the development of American political institutions, and was a strong advocate for individual rights and liberties.
Despite his initial skepticism of the Constitution, he ultimately supported its adoption, and played a key role in ensuring that it protected the rights of all citizens. His legacy continues to inspire citizens and leaders around the world, and his contributions continue to shape the United States more than two centuries after his death.
---
Founding Fathers: Elbridge Gerry
Elbridge Gerry was born in on July 14, 1744, at Marblehead, MA, as the third of twelve children. Elbridge Gerry's mother was the daughter of a merchant in Boston. His father was a politically active and wealthy merchant-shipper who had previously been a sea captain.
After attending Harvard College at the age of 14 and graduating in 1762, Elbridge Gerry joined his two brothers and father in the family business of exporting dried codfish to Spain and Barbados.
He was elected the colonial legislature, the General Court of Massachusetts from 1772 to 1774, where he came under the Samuel Adam's influence, and took part in the Massachusetts and Marblehead committees of correspondence. After the British Parliament closed the Boston harbor in June 1774, Marblehead, Massachusetts became an important port of entry for goods that were donated by patriots throughout the other colonies to help support Bostonians. Elbridge Gerry was involved in transporting these supplies.
From 1774 to 1776 Elbridge Gerry attended both the first and second provincial congresses. There, he served with John Hancock and Samuel Adams on the council of safety and, and acted as chairman of the committee of supply where he raised troops and considered military logistics.
On April 18, 1775, Elbridge Gerry attended a meeting at an inn in Menotom, between Cambridge and Lexington, for the council of safety. Here he barely escaped the British troops that were marching on Lexington and Concord.
In 1776, Elbridge Gerry entered the Continental Congress, where his specialties were financial and military matters. Both in Congress and throughout his political career, Elbridge Gerry's actions often appeared very contradictory. Elbridge Gerry earned the nickname "soldiers' friend" due to his strong advocacy of better equipment and pay, yet he often hesitated on the issue of soldier pensions. Despite his strong disapproval of standing armies, Elbridge Gerry recommended long-term enlistments.
Until 1779, Elbridge Gerry sat on and sometimes even presided over the congressional board which regulated the Continental Congress' finances. After a dispute over the price schedule for suppliers, Elbridge Gerry, who also a supplier, walked right out of Congress. Although he was nominally a member, Elbridge Gerry did not reappear for three years. During the interim, Elbridge Gerry engaged in trade and was a member of the lower house of the Massachusetts legislature.
From 1783 to 1785, Elbridge Gerry was a representative in Congress, where he was one of many who had a gift as a Revolutionary agitator and a wartime leader. However, he could not effectively handle the difficult task of stabilizing the federal government. He was conscientious and experienced but made many enemies due to lack of humor, obsessive fear of military and political tyranny, and suspicion in others. In 1786, a year after Elbridge Gerry left Congress, he retired from business. Elbridge Gerry married Ann Thompson and became a member of the state legislature.
Elbridge Gerry was one of the most vocal delegates during the 1787 Constitutional Convention. Gerry presided as chairman of the committee that made the Great Compromise, even though he personally did not like the compromise itself. Elbridge Gerry antagonized almost everyone by his inconsistency and, according to one colleague, objected to practically everything that he did not propose.
While Elbridge Gerry was first an advocate of a good strong central government, he ultimately refused and rejected to sign the Constitution because it did not include a bill of rights and because he felt it was a threat to republicanism. Elbridge Gerry led the drive against the ratification of the Constitution in Massachusetts and said that the document was full of vices. Among these vices, he pointed out inadequate representation of the people of the state, dangerously unclear legislative powers, the mixing of the legislative and executive branch, and the potentially oppressive judiciary.
Elbridge Gerry did see some potential in the Constitution, and he believed that the flaws could be fixed through amendments. After he declared his intention to support the new Constitution, Elbridge Gerry was elected to the First Congress in 1789 where he championed many Federalist policies.
Elbridge Gerry left Congress for the last very time in 1793 and retired for four years after. During this time, he came to distrust the plans of the Federalists, particularly their attempts to form an alliance with Great Britain. Because of this, he sided with the pro-French Democratic-Republicans. President John Adams appointed him in 1797 as the only non-Federalist of a three-man commission that was charged with negotiating some sort of reconciliation with France, whom the United States was on the brink of war with.
During this affair from 1797 to 1798, Elbridge Gerry hurt his reputation. The French foreign minister, Talleyrand, led Gerry to believe that his presence in France could prevent war, and he stayed in France for a bit more after the departure of Charles Cotesworth Pinckney and John Marshall, the other two other members of the commission. Finally, the embarrassed President Adams recalled Gerry, and Gerry received severe censure from the Federalists after his return.
Elbridge Gerry met his defeat in four bids for the Massachusetts governorship due to his aristocratic haughtiness between 1800 to 1803. However, he somehow finally managed to triumph in 1810. Around the end of his two terms, the Democratic-Republicans who were scarred by a partisan controversy passed a redistricting law that ensured their domination in the state senate. In response to this law, the Federalists placed all the ridicule on Gerry and coined the term "gerrymander" as a way to describe one of the restricted areas, which was shaped like a salamander.
Despite his age, frail health, and a threat of poverty due to the neglect of his personal affairs, Elbridge Gerry served as the Vice President in 1813 under President James Madison. On November 23, 1814, Elbridge Gerry collapsed on his way to the Senate and died at the age of 70. His wife, who lived until 1849, was the last widow of a signer of the Declaration of Independence. Elbridge Gerry is buried in the Congressional Cemetery in Washington, DC.